All popular BYRON FUEL kept in stock. 16%, 20% & 25%
Schumacher Buggy tires now in stock.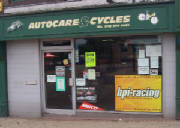 MIRAGE SERVICE/REPAIR CENTRE
Opening hours:

Monday, Tuesday, Thursday, Friday 9am - 5pm and Saturday 9am - 2pm

Closed Wednesday's and Sunday's

If you can not find what you are looking for PLEASE PHONE or EMAIL US, we will be happy to help
spares and accessories in stock.

Repairs carried out.

Car stereo's supplied and fitted from £80.00

Car accessories and spares, Gear oil's, motor oils, most filters, large range of Auto glym accessories, also help and advice.

Bicycle spares and accessories, tubes, tyres, cables, brake blocks and repairs done.